45 Star Antique Flag with a Linear Star Arrangement and Cornflower Blue Canton | Includes an Overprint Related to Teddy Roosevelt's Visit to Fitchburg, Massachusetts | Utah Statehood | Circa 1902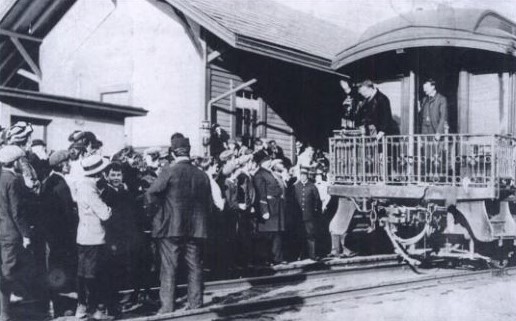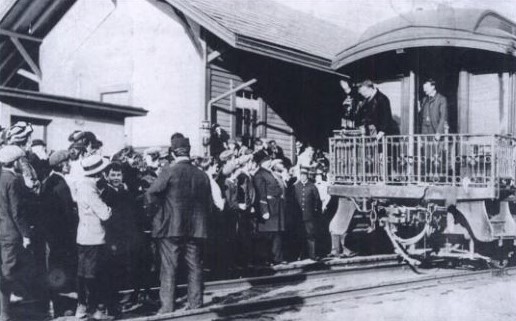 45 Star Antique Flag with a Linear Star Arrangement and Cornflower Blue Canton | Includes an Overprint Related to Teddy Roosevelt's Visit to Fitchburg, Massachusetts | Utah Statehood | Circa 1902
Frame Size (H x L): 11.5" x 15.5"
Flag Size (H x L): 6" x 10.5"
Offered is a forty-five star parade flag that is printed on glazed cotton, and that exhibits a linear 8-7-8-7-8-7 pattern. This flag includes a wonderful Teddy Roosevelt related overprint that says the following:
This flag I used to salute
President Roosevelt with at Fitchburg. Sept. 2-1902
also Secretary of State Hay. Private Secretary
Cortilson Gov. of Massachusetts Crane
& others on the train
As noted on this flag, President Roosevelt visited Fitchburg, Massachusetts on September 2nd, 1902. He arrived by train, was escorted by carriage, and spoke to the residents of the town at the Wallace building (see the images). Fitchburg planned extensively for Roosevelt's visit and was particularly patriotic that day. Among other things, the town passed out 2,500 parade flags—this likely being one of them—for school children to wave as President Roosevelt passed through Fitchburg. The town also dressed thirteen young girls to represent the original thirteen colonies, and dressed one girl to represent Lady Liberty.
Theodore Roosevelt—a writer, soldier, naturalist, and statesmen—was the 26th president of the United States from 1901 until 1909. Roosevelt was elected as the governor of New York in 1898, and in this position, he was a reformer who was best known for removing corrupt officials and regulating corporations. Such actions irritated Republican leaders. And in response, they urged him to run as the vice presidential nominee with William McKinley in 1900, the thought being that Roosevelt's vice presidential role would be ceremonial in nature and sidetrack him from continuing to reform and regulate. In 1901, however, McKinley was assassinated, and Roosevelt became the youngest president in history. Interestingly, the revolver used to kill McKinley was made in Fitchburg by an anarchist named Iver Johnson.
The canton of this flag is a cornflower blue. The First Flag Act of 1777 specified the number of stripes and the colors of the flag, but did not specify the exact shades of each color, which is why some flags—like this one—have a lighter blue canton than what is typical. The exact shades were not officially specified until 1934.
The forty-five star flag represents the inclusion of Utah to the Union. Utah was admitted on January 4th, 1896, and this flag became official on July 4th, 1896. Presidents Grover Cleveland, William McKinley, and Teddy Roosevelt served under this flag, and the Spanish-American War was fought under it.
In 1848 Utah became a territory of the United States, and in 1849 its constitution was established as the Mormon State of Deseret. The next year, the State of Deseret applied to become a state, but Congress rejected the application and changed its name to the Utah Territory, which included the entirety of Nevada and portions of Colorado and Wyoming (as a section of the Missouri Compromise). Despite its continued efforts to gain statehood, it remained a territory, partially as a result of the Mormon Church and Utah authorities being openly tolerant of polygamy. In 1890 Utah outlawed the practice, and in 1896 Utah finally became the forty-fifth state. The forty-five star flag was official for 12 years up until July 4th, 1908, when the forty-six star flag became official and began to represent the inclusion of Oklahoma in the Union.
Conservation Process: This flag was hand sewn to cotton fabric, and both were hand sewn to a mounting board. To prevent the black dye in the cotton fabric from seeping into the flag, it was first washed in a standard wash and then in a dye setting wash. The flag is positioned behind Conservation Clear Acrylic (standard) or behind Optium Museum Acrylic (per request).

Frame: The antique frame is made of walnut and includes a gold inner layer. It dates to between 1860 and 1890.
Condition Report: This flag exhibits some very minor staining and some fading. Many collectors prefer flags that show their use and age.

Collectability Level: The Great – Perfect for Rising Collectors
Date of Origin: 1902
Number of Stars: 45
Associated State: Utah