48 Star Antique US Flag with a USS Niagara and "Perry's Flag Ship" Overprint | Arizona Statehood | Circa 1913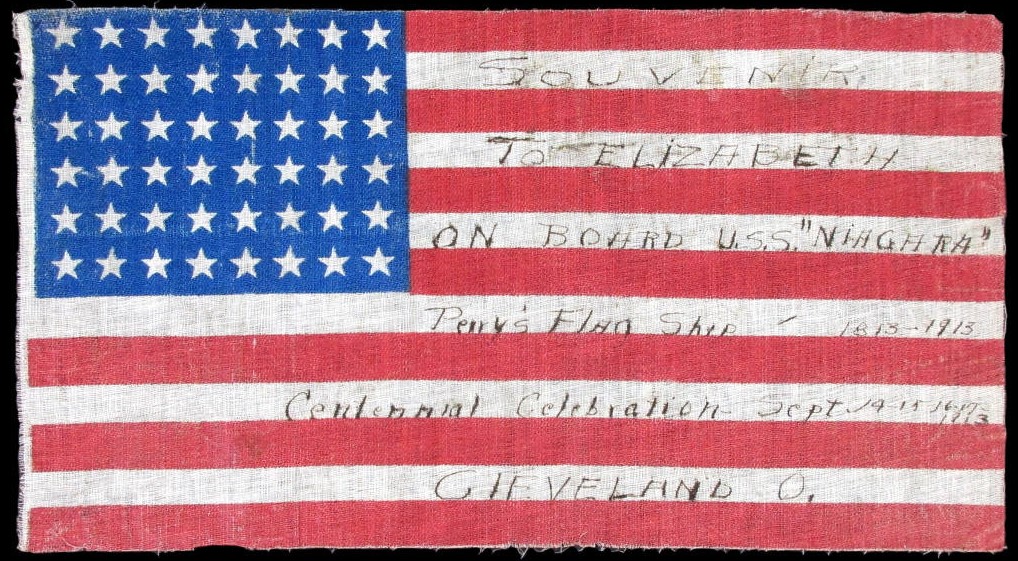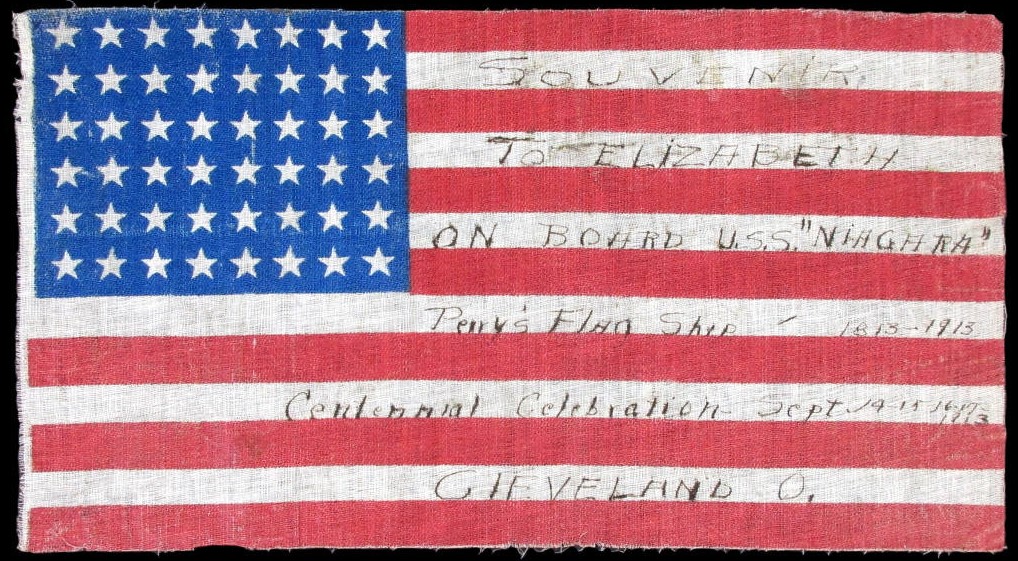 48 Star Antique US Flag with a USS Niagara and "Perry's Flag Ship" Overprint | Arizona Statehood | Circa 1913
Frame Size (H x L): 13" x 19"
Flag Size (H x L): 7.5" x 13.5"
Offered is a wonderful forty-eight star flag with a "Perry's Flag Ship" overprint. An overprint is printing on the face of the flag, either on its canton or its stripes. Overprinted flags are typically made of either cotton or paper, and typically date to between 1860 and the early 1900s. Overprints cover a variety of topics, including political candidates, political organizations, commercial advertisements, and historic events, just to name a few examples. In the case of this flag, the overprint states the following:
SOUVENIR
TO ELIZABETH
ON BOARD U.S.S. "NIAGARA"
Perry's Flag Ship – 1813-1913
Centennial Celebration- Sept. 14-15-16-17-1913
CLEVELAND O.
The USS Niagara was built to protect the Lake Erie coastline from the British, and during the War of 1812, it served as the relief flagship for Oliver Hazard Perry in the Battle of Lake Erie. Perry began the Battle on the USS Lawrence, but the ship was battered so badly that Perry was forced to lower his battle flag and transfer via a small boat to the USS Niagara. Once onboard the USS Niagara, Perry unleashed its fire power, and devastated the enemy's fleet. Ultimately, nine US Navy vessels defeated and captured six British Royal Navy vessels. The victory was a pivotal event in the War of 1812, as it ensured American control of Lake Erie for the rest of the War, and significantly raised morale.
The USS Niagara was purposely sunk in 1820, partially because of the Rush-Bagot Agreement calling for disarmament of the Great Lakes, and partially because of the USS Niagara being unsuitable for merchant trade. In 1913, the USS Niagara was raised and restored for the Perry Centennial Celebration. The restored USS Niagara was pulled by the USS Wolverine to various cities on the Great Lakes, including Put-In-Bay, Milwaukee, Chicago, Detroit, Buffalo, and Cleveland.
The forty-eight star flag represents the inclusion of New Mexico and Arizona to the Union. New Mexico was admitted on January 6th, 1912, and Arizona was admitted on February 14th, 1912. The forty-eight star flag became official on July 4th, 1912. Presidents Taft, Wilson, Harding, Coolidge, Hoover, Roosevelt, Truman, and Eisenhower all served under this flag. World Wars I and II, and the Korean War were all fought under it.
The forty-eight star flag was official for forty-seven years up until July 4th, 1959, the time at which the forty-nine star flag became official and began to represent the inclusion of Alaska in the Union.
Conservation Process: This flag was hand sewn to cotton rag board. The flag is positioned behind Conservation Clear Acrylic (standard) or behind Optium Museum Acrylic (per request).
Frame: The antique frame dates to between 1900 and 1920.
Condition Report: This flag exhibits some minor creases, but overall is in wonderful condition.
Collectability Level: The Great – Perfect for Rising Collectors
Date of Origin: 1913
Number of Stars: 48
Associated War: War of 1812 and Battle of the Great Lakes
Associated State: Arizona