36 Star Antique US Flag with a Medallion Defining a Great Star | Nevada Statehood | Circa 1864-1867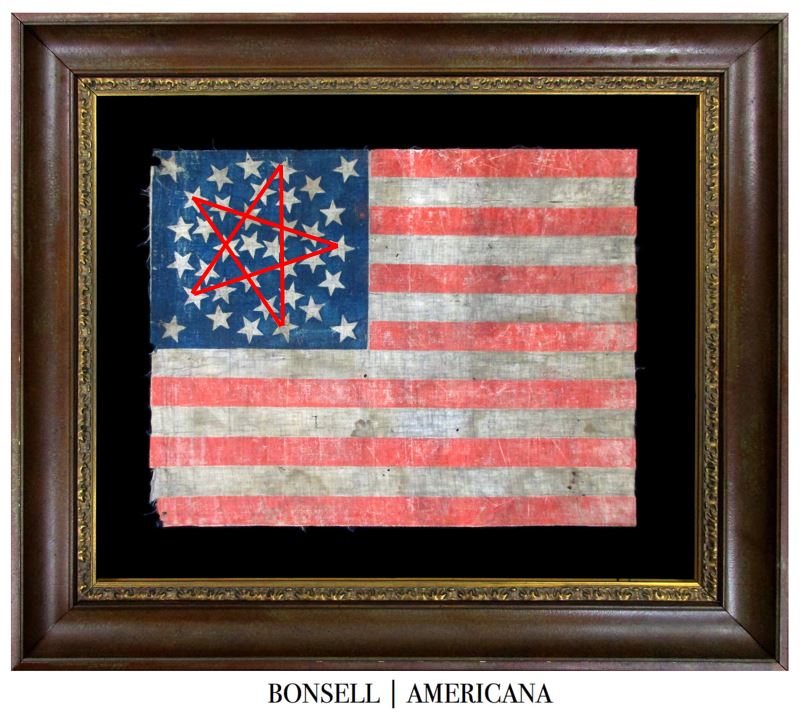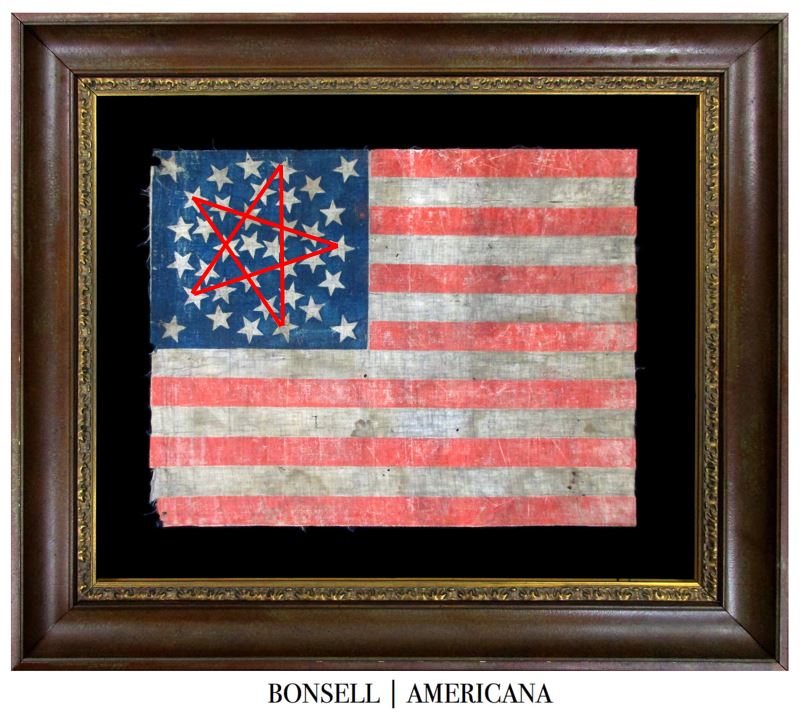 36 Star Antique US Flag with a Medallion Defining a Great Star | Nevada Statehood | Circa 1864-1867
Frame Size (H x L): 27" x 33"
Flag Size (H x L): 17" x 23"

Offered is a thirty-six star antique flag printed on coarse glazed cotton. It is a medium sized flag that is big enough to make a statement, yet small enough that it can be displayed almost anywhere.
Its stars are arranged in a medallion pattern, an arrangement that is beautiful and striking. The medallion is defined by an outer ring of stars, and is flanked by a star in each corner of the canton. Initially, the stars of the medallion to be arranged randomly. Upon closer inspection, however, they appear to define a "Great Star" arrangement (see the second image). Such a combination—a medallion that defines a Great Star—is one of the most desirable and rare arrangements that one can encounter in early antique flags.
The Great Star pattern is a large star made of smaller stars. The smaller stars may be a variety of sizes, and may be canted in a various directions. Such a pattern was perfectly acceptable, as prior to President Taft's Executive Order 1556 in 1912, flag makers were free to place the stars however they wished.
US Naval Captain Samuel Reid is credited with designing the Great Star pattern in 1818. Captain Reid was an officer in the US Navy and commanded the privateer General Armstrong during the War of 1812. Andrew Jackson credited Captain Reid's heroism in delaying the British Squadron in the Battle of Fayal, and aiding in General Jackson's defense of New Orleans. Captain Reid and his crew were greeted as heroes.
The Second Flag Act, passed in 1794, stated that the flag would have 15 stars and 15 stripes, in response to Vermont and Kentucky being added to the Union. Knowing that this approach would not be sustainable, with Captain Reid's help, Congress passed the Flag Act of 1818, specifying that the flag should only have 13 stripes, but should have a star for each state admitted to the Union. It further specified that the addition of each star should be on the Fourth of July following each respective state's admission.
Captain Reid played a significant role in the Flag Act of 1818, and recommended a basic design of 13 horizontal alternating stripes in honor of the 13 colonies, and a star in honor of each state. He further recommended several potential star patterns, including 20 stars in the shape of a larger star for general use. Reid suggested this pattern to make the flag consistent and easily identifiable, particularly at long distances and at sea. His star pattern recommendation was not ultimately included in the Act, nor was any star pattern, but Captain Reid is universally credited with designing the Great Star pattern. Its use peaked in the 1840s, but it was also used during the Civil War and occasionally during Centennial Celebrations. Its last known commercial use was on a 38 star flag.
Thirty-six star flags represent the inclusion of Nevada to the Union, and such flags were waved in celebration of the conclusion of the Civil War. Nevada was admitted on October 31st, 1864, and this flag became official on July 4th, 1865. Nevada was originally part of the Utah Territory beginning in 1850, became its own territory in 1861, and became its own state in 1864.
The timing of Nevada's inclusion was politically and economically based. For political reasons, Nevada was admitted to the Union just eight days prior to President Lincoln's re-election bid against General George McClellan. Such timing was meant to benefit Lincoln and his fellow Republicans. For economic reasons, Nevada was included as part of the Union to help it pay off the country's war debts. Economically, Nevada was particularly attractive at the time, because of its significant silver mining industry. Nevada expanded its borders in 1866 when the western Utah Territory was added to its eastern side, and further expanded in 1867 when a portion Pah-Ute County in the Arizona Territory was added to its southern side.
The thirty-six star flag was the official flag for the last six months of the Civil War, and was used by the military during that time. It was also the official flag during a portion of the Reconstruction era. The thirty-six star flag was official until July 4th, 1867, the time at which the thirty-seven star flag became official and began to represent the inclusion of Nebraska in the Union.
Conservation Process: This flag was hand sewn to cotton fabric, and both were hand sewn to a mounting board. To prevent the black dye in the cotton fabric from seeping into the flag, it was first washed in a standard wash and then in a dye setting wash. The flag is positioned behind Conservation Clear Acrylic (standard) or behind Optium Museum Acrylic (per request).

Frame: This offering is in our Medium Brown with Gold Accents Frame. However, it can be reframed and would look great using any one of our Medium or Large Frames, which are shown in the final two images. The pricing associated with the different framing options may vary. Reframing of an offering may delay shipment by up to two weeks.
Condition Report: This flag has damage along its hoist strip, most likely from it not be carefully removed from its staff. There is a lateral tear along the second white stripe, starting from the fly end and traveling towards the hoist end. This damage has been carefully masked and is only noticeable upon very close inspection. The white stripes are heavily toned. Despite all of these issues, this flag is very attractive and has an age appropriate appearance. Many of our clients prefer flags that show their use and age.
Collectability Level: The Best – Perfect for Advanced Collectors
Date of Origin: 1864-1867
Number of Stars: 36
Associated War: Civil War (1861-1865)
Associated State: Nevada