Hand Sewn 38 Star Antique Flag | Includes an Hourglass Star Pattern | Colorado Statehood | Circa 1876-1889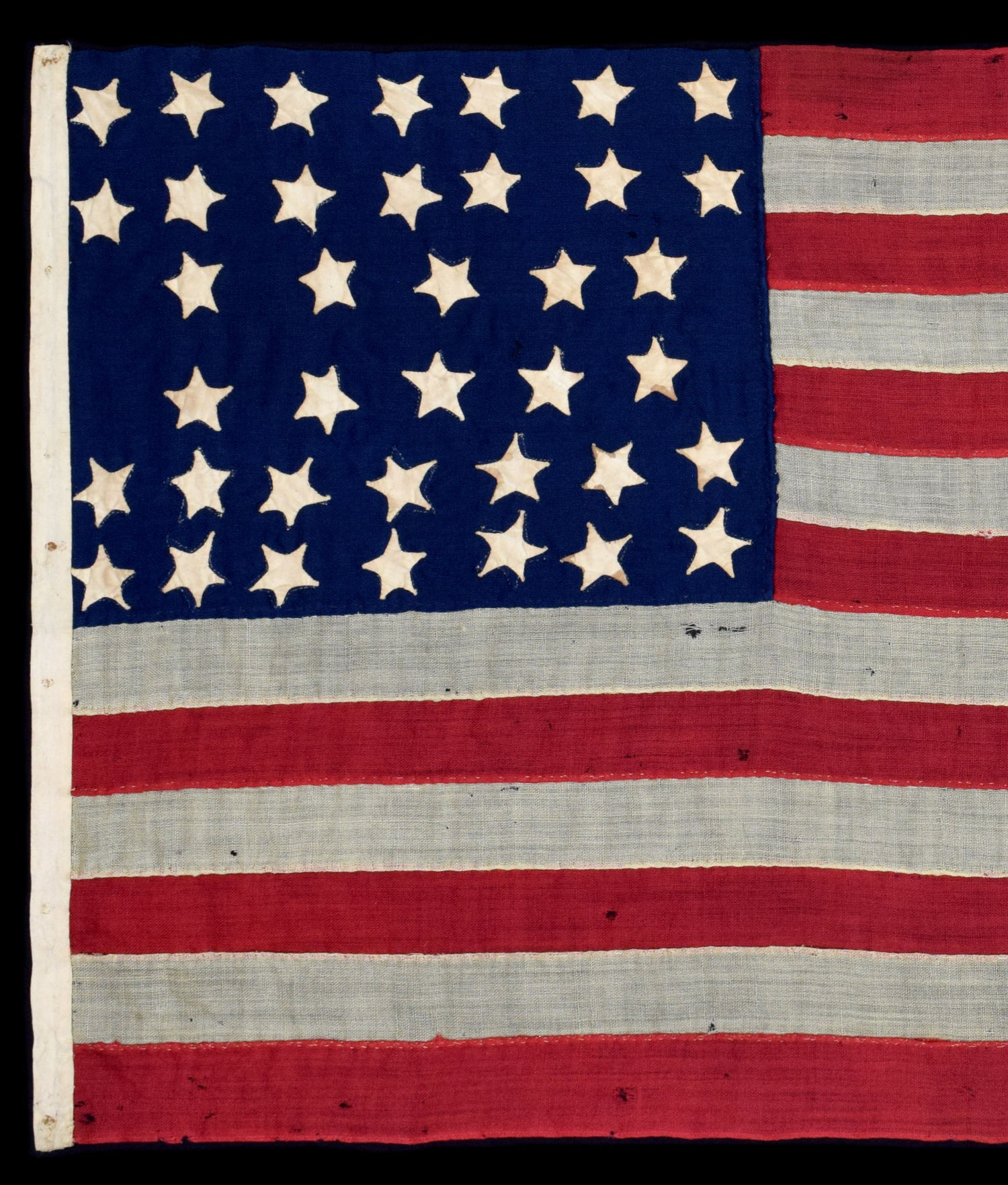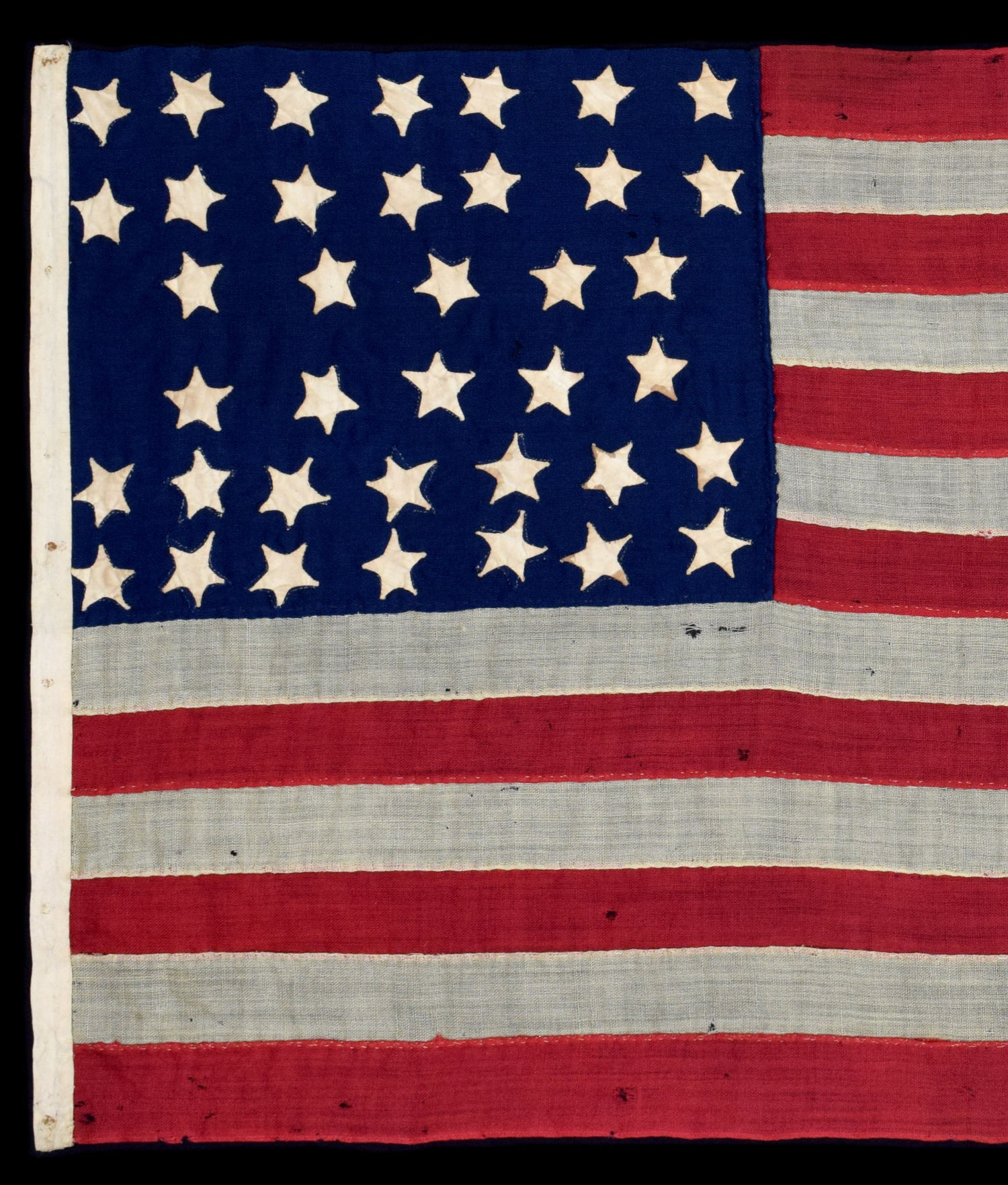 Hand Sewn 38 Star Antique Flag | Includes an Hourglass Star Pattern | Colorado Statehood | Circa 1876-1889
Frame Size (H x L): 34" x 49.5"
Flag Size (H x L): 23" x 38.5"

Offered is a thirty-eight star antique flag. Its stars are arranged in a visually interesting 7-7-5-5-7-7 pattern, which in combination defines an hourglass. The stars are canted in various directions and single-appliquéd. A single-appliquéd flag is one that has stars sewn to just one side of the canton. With this approach, the canton is cut-away from behind each star and then hemmed. By doing this, the single piece of material used for each star can be seen on both sides of the flag. The single-appliqué method is difficult to execute, but conserves material (likely the main reason for doing so) and reduces the weight of the flag. Single-appliquéd flags are much rarer than double-appliquéd flags, and further they tend to have a more attractive, folksier appearance.
The stripes of this flag are made of wool bunting and are joined with hand stitching. The stars are made of cotton and, as discussed, hand stitched and single appliquéd. The canton is made of a single piece of wool bunting and is joined to the stripes with hand stitching. The hoist strip is made of cotton, and is joined to the canton and stripes with hand stitching. The hoist strip does not include any grommets. However, it does includes several small holes, indicating that this flag may have been tacked to a staff.
This flag is small in size for a piece-and-sewn flag, dating to the centennial era. This adds considerably to its appeal, as it can be easily displayed. It was not until the Civil War that small piece-and-sewn flags were made with any frequency at all, and not until the 1890s that they were made with regularity. During most of the 19th century, flags made with piece-and-sewn construction had a width of at least eight feet, as they were typically used as signaling devices for the military or by sailors. Even the flags that were used for decorative purposes usually had a width of six feet or more, and versions smaller than this were quite rare.
The thirty-eight star flag represents the inclusion of Colorado to the Union. Colorado was admitted on August 1st, 1876 and this flag became official on July 4th, 1877. Presidents Hayes, Garfield, Arthur, Cleveland, and Harrison all served under this flag. Colorado became known as the "Centennial State," a result of becoming official just twenty-eight days after the centennial. The official star count for US flags in 1876 was the thirty-seven star flag. However, it was common for flag makers to produce anticipatory flags in advance of their official date, making the thirty-eight star flag—and for historical reasons, the thirteen star flag—the most common flags flown during the centennial celebrations of 1876.
The nation's centennial in 1876 inspired patriotism across the county and reunited its citizens. Cities of all sizes hosted parades and celebrations, and buildings and homes were canvased in red, white, and blue with flags being the primary symbol of national pride. The most notable celebration was the Centennial International Exposition in Philadelphia. In just six months, the Exhibition hosted nearly 10 million visitors, and included many extraordinary exhibits, such as the introduction of the Corliss Steam Engine and Alexander Graham Bell's telephone.
The thirty-eight star flag was official until July 4th, 1890, the time at which the forty-three star flag became official and began to represent the inclusion of North Dakota, South Dakota, Montana, Washington, and Idaho to the Union.
Conservation Process: This flag was hand sewn to silk organza, and both were hand sewn to cotton fabric. The silk organza provides a strong layer of protection and a professional appearance. The flag, the silk organza, and the cotton fabric were then hand sewn to a mounting board. To prevent the black dye in the cotton fabric from seeping into the flag, it was first washed in a standard wash and then in a dye setting wash. The flag is positioned behind Conservation Clear Acrylic (standard) or behind Optium Museum Acrylic (per request).

Frame: This offering is in our Large Distressed Black and Gold Frame. However, it can be reframed and would look great using any one of Large Frames, which are shown in the final image. The pricing associated with the different framing options may vary. Reframing of an offering may delay shipment by up to two weeks.
Condition Report: This flag exhibits some small holes and light stains, but overall this flag is in great condition.
Collectability Level: The Great – Perfect for Rising Collectors
Date of Origin: 1876-1889
Number of Stars: 38
Associated War: The Indian Wars (1860-1890)
Associated State: Colorado